Get the Gears of War 3 Beta for Free and Without a Key.
Get the Gears of War 3 Beta for Free and Without a Key. This Beta is Playable!
Use the Link to Download the File, then Continue to Part 1 While the Files are Being Downloaded.
File:
Beta File and USBXTAFGUI 44
*Notes Before You Start:
1) If you have already Downloaded the Gears of War 3 Beta, Delete It.
2) You Will Need a USB Drive For this.
3) You will Need the Gears of war 3 Beta File and  USBXTAFGUI 44
PART 1) Set Up Your USB
*Note: If You already Have a USB Drive with Your Gamer Profile You may Skip Part 1.
1) Insert a USB into Your Xbox. Make sure this USB is Empty, if it has files move them elsewhere because the following steps will wipe all the Content off of the USB.
2) In the Dashboard Navigate to the "Memory Settings". In order to do this go to "MY Xbox" Row and scroll all the Way Right to System Settings, Enter System Settings and Go to "Memory"
3) Now that You are in Memory Settings Select Your USB Device and Select "Configure Now"
4) Once Your USB Device is Configured you are Going to Move Your Profile to it. In order to do this Return to the "Memory" Settings. Select the Drive where your Profile is Stored (Probably your Hard Drive). Select "Gamer Profiles" and then Select Your Profile. Now Select "Move" and Move Your Profile to the USB You just Set Up.
Now Your USB Drive is Set up, You may Continue to Part 2…
Part 2: Putting the Gears of War 3 Beta on to Your USB
Source: NextGenUpdate
1) Plug Your USB into Your PC
2) Unzip the Files You Downloaded to Your PC (Download Link is Above if You Don't Have the Files Yet)
The Zip Contains:
USBXTAFGUI_v44.exe
and the The folder  "00080000" which contains the Gears of War 3 Beta File (The File is Called: CBE63F35E657ECE72EDF577353571CB6BBBD95874D)
3) Open USB Xtaf GUI (USBXTAFGUI_v44.exe)
4) Inside USB Xtaf GUI Click File "Open First USB Drive"
5) Now Create a folder Inside "Content" (Data Partition -> Content) named "0000000000000000" (16 Zeros) (Skip this Step if You already Have this Folder).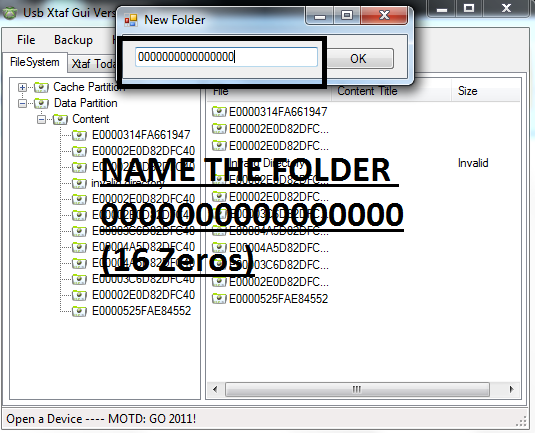 6) Now inside the Folder you Just Created ("0000000000000000"), Create a Folder called "4D5389B9".
7) Now inside the Folder "4D5389B9" (The Folder You Just Created), Create Another Folder Called "00080000" (3 Zero's an 8 and then 4 Zero's)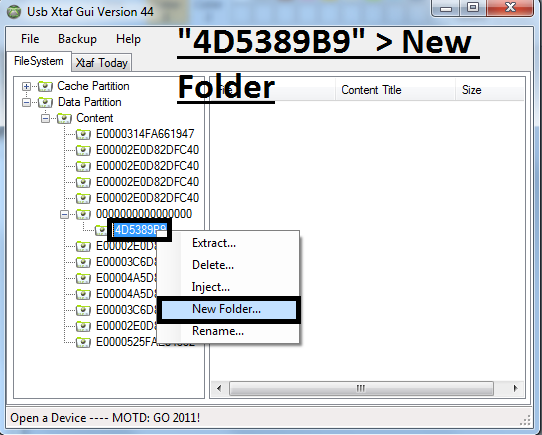 8) Now Inject the File "CBE63F35E657ECE72EDF577353571CB6BBBD95874D" (This is One of the Files from the Zip You Downloaded, it is inside the Folder 00080000) into the Folder You Just Created ("00080000").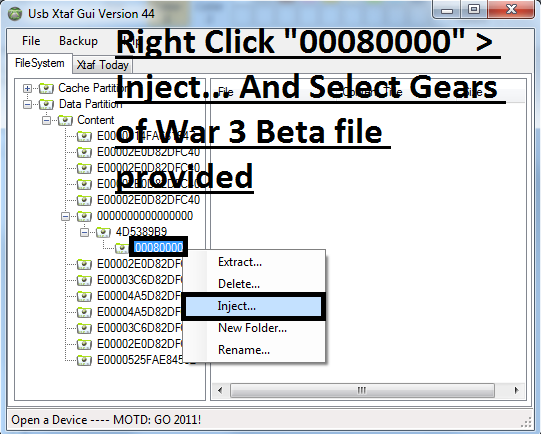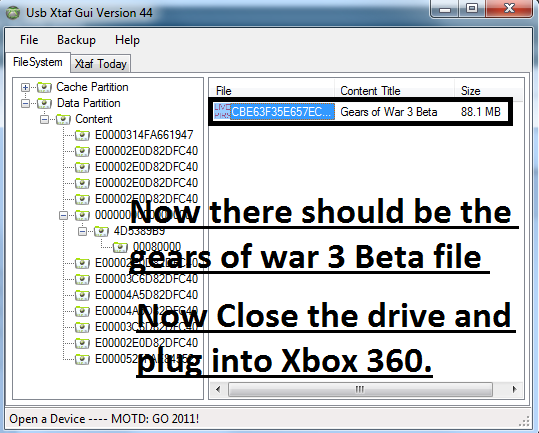 9) In Xtaf GUI 44 to File "Close Current Drive". Once the Drive has finished closing you may Exit Usb Xtaf Gui 44. Now you may Remove the USB from your PC.
10) Plug Your USB into Your Xbox
11) Go To Your Game Library (To the right in the "My Xbox Row")
12) You will see the Gears or War 3 Beta in Your Game Library. Select the Demo and the game Will Begin to Load. An Update Will Appear. Download this Update. When the Download Finishes you are Good to Go… Now Play Some Gears of War 3!
*Note: If Your Having trouble and the Game Freezes for Some Reason then try moving the Gears Beta File from Your USB to the Hard Drive and that should work. You can Move All the files on Your USB (Gamer Profile and Gears 3 Beta) to Your Hard Drive at this Point if You Wish to Do So.
Files:
Beta File and USBXTAFGUI 44
View More Gears of War 3 Mods and Hacks